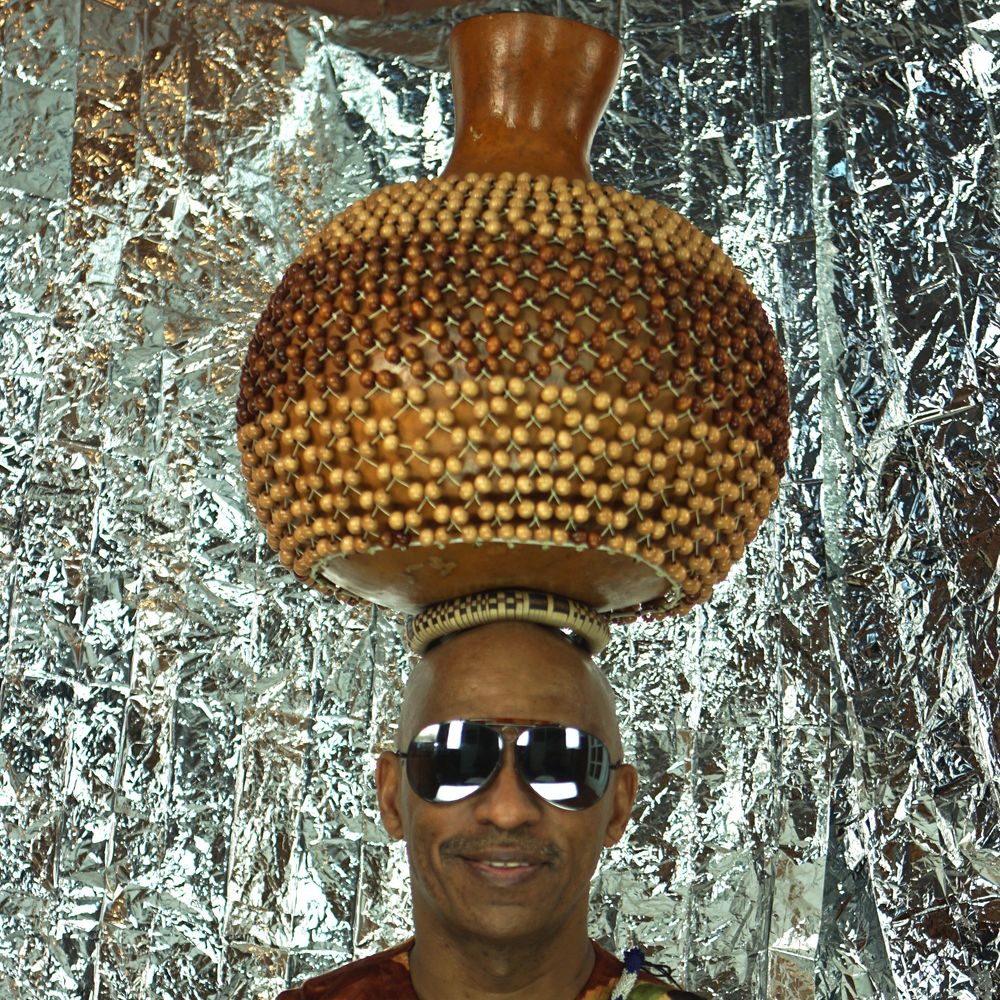 EPK
Hasan Bakr was born in 1955 in Savannah, Georgia. He is of Gullah Geechee heritage in a part of the United States that received the greatest amount of people from Africa during what is know as the slave trade. Every expression of his people is centered around the concept of humility and personal freedom.  "We don't bother anyone and we don't let nobody turn us around,
For one year at age 7, Hasan's focus turned to the piano and at age 15 to the trombone with the Benedictine Military School Band.  After a marching accident, he later switched in 1973 to drums, and  has been on the continual path of music.
About Hasan Bakr
A percussionist, singer and composer who found his first musical expressions in the tonal arts of the drum.  He has studied with many masters of percussion, for most of his adult life with such notables as Chief Bey (shekere and bell), Babafeami (Conga), Nana Vasconcelos (berimbau and caxixi), Little Ray Romero (timbales), and Mbemba Bangoura. (Djembe).
While actively pursuing a career in drumming, Hasan molded a unique vocal ability that landed a position as lead singer in the legendary Spirit Ensemble and HeritageOP, both New York based percussion ensembles.
During his tenure with The Spirit Ensemble, the study of the playing and building of the Mbira was undertaken with two North American Mbira masters, Kevin Nathaniel and the late Zeleka Jenkins.  The most important quality and achievement of both of these ensembles has been their enormous contribution to arts and education in the Greater New York Metropolitan area.
Hasan is a natural musician and has an 30-year history in conducting African musical instrument demos, student assembly programs, in- school artist residencies and youth empowerment workshops.  He is also a 1998 Ethnic Dance Award Recipient and performed with a number of artist including
The Winard Harper Sextet, Snow, Hassan Hakmoum, Zimbabwean Mbira Master Ephat Mujuru, Salieu Suso, Abdullah Ibrahim and Ekaya, The Meditations, Veiux Diop and many more.  As a composer, he has penned a collection of works for dance and the media arts, with a co- writer credit on the film, "Brooklyn Babylon.
Composer Credits:
Laughter; B Shaker and Freedom; performance works from the "When I Start to Play" HeritageOp  CD release 2003.
One Ascension; a performance work from 'Universal  Healing" HeritageOP for the Alvin Ailey Repertory Co. March 2001.
Friendship; work from "Universal Healing from the film "Brooklyn Babylon" Fall 2000.
The Life Forms Suite;  a percussion suite to accompany the dance works for Reginald Yates Winter 200 at Julliard School of Dance.
Zion; a dance work for Reginald Yates for the Alvin Ailey American Dance Theater Spring Gala  May 1999 Co–composed with Victor See Yuen.
Community, A Show of Support – Work for Multimedia with Murkofsky-Tsukayama Dance Theatre HeritageOP 1998.
Brass Woman, City, Yafa, Rain. Branches; work for Multimedia with with Samia Halaby University of Penn, Pa  Nov 1997.
Heritage Percussion for Dance and Aerobics Cd.
Release 1997 with Victor See Yuen and Ron McBee.
Sojourn; Performance Work Heritage with Alvin Ailey Junior Dance Division June 1997
Scenes From A Dream; - Solo Release.  Work for Multimedia 1996.
Music for Images:  -a live performance for kinetic painting with Samia Halaby Hear Studios, NYC 1996.
Change: -Performance Work with Spirit Ensemble – CD Release, Ancestral Callings"1993.
Solace, Mother's Love, We Are Real, Father Father: -Performance Works for Duke University Theater Dept. with Blondell Cummings 1993.
In Love Again, In a Form: - Performance Works with Spirit Ensemble – CD Release "Ancestral Callings" 1993
Good Weather: - Solo Album Project 1992.
Bright Sayings:  - Collaboration Project With Mbira Stylist Kevin Nathaniel 1989.
Vision:  - Music for Meditation, Solo Album Project 1988
Bright Sayings:  - Performance Work in "Relationships:
Intimate Not So Intimate with Blondell Cummings:
Spoleto Festival, USA 1991.
Night Visitant:  - Performance Work – Amsterdam Public Television 1985. That Summer: -
Performance Work  
Bullwackie, the reggae documentary 1983.
Published Work:
Video Tape: Six Movements with the Kinetic Painting Group.
CD Releases:
HeritageOP.      When I start to play" June 2003
Percussion Music for Dance Exercise and Aerobics. 1997
Universal Healing  1999
Cassette Releases:  Hasan Bakr - Scenes from a Dream, 1996
Hasan Bakr –Vision  1987
Hasan Bakr – Good Weather  1991
Hasan Bakr and Kevin Nathaniel -Bright Sayings
As co-producer  w/ Spirit Ensemble Ancestral Callings  1992  Ancestral Music  1987
Educational Credits:
Is currently or has been on the performance rooster of Lincoln Center Presents, Young Audiences-NY and NJ Arts Connection - NY an NJ, Caribbean Cultural Center,Symphony Space CAP, Brooklyn Academy of Music, Cultural Corner, Dancing in the Streets, Carnegie Hall Educational Series, The Kennedy Center, The Met Educational Series, Project Read and Project Arts, Midori and Friends
And numerous lecture demonstration and instrument building workshops throughout the United States as a founding member of the Mbira Society Of North America.
Dance Related:
Reginald Yates, -Cleo Parker Robinson Dance Festiva,l 1999 MSOA Residency West Palm Beach, Fla. Florida
Dance Festival June 1999 Perry Mansfield Summer Dance Festival July 1999, Lincoln Center Out of Door Festival Aug 1999, Jacob's Pillow Aug 1999
Alvin Ailey Repertory  March 2001, Marlis Yearby, Moving Spirits – Baca Performance
Theatre:
Blondell Cummings Spoleto Festival, Duke University
Sabar Aru Afrik Senegalese dance
Murkofsky- Tsukayama Dance Theatre
O Brasil , Brazilian Dance and Capoeira
Loremil Machado Capoeria and Brazilian Dance
Atchade Assongba Dance Of Benin
Maya Claire Garrison and Mzawa Dance
Earl Mosley's Diversity of Dance
Genesis Dance Company
Video:
MTV Dance Moves MVT 1997
Burning Sands: The Order of the Feather 1996
Byron Lars Fashion Expo Fashion Week- Byron Lars 1995
Goree Island Mme Productions 1994
Talk Is Cheap Rise Robots Rise TVT Records 1992 MTV
If I Only Knew Rise Robots Rise TVT MTV 1992
They Came before Columbus   Dr. Ivan Van Sertimer 1985
Film:
Brooklyn Babylon
Tarzan  (Warner Brothers)
The Homecoming
Recorded or Played with
Spirit Emsemble, Heritage OP, Greg Wall's Unity Orchestra, Africa ForestDance,Winard Harper, Hassan Hakmoun, One Nation,The Meditations, Sugar Minott, Carlton Livingston, Max Romeo, Salieu Suso Gambian Kora Master, Ephat Mujuru Mbira Master, Abdullah Ibrahim and Ekaya, Snow, Ken Boothe,  Rise Robots Rise, Madonna, Atchade Assongba Dance of Benin, Martik, Miriam Makeba, Gary Toms Empire, Dominic Kanza and the African Rhythm Machine, Thomas Mapfumo and the Blacks Unlimited, Akin Turkish Rap Star, Letta Mbulu, Last Poets, Malika Lee Whitney and the Pickney Players, Reggae Artist Pang, Lovejoy's and Robbie Khumalo. Mbira Society Of North America, Danceoholic Records, Missia Saran Dioubate, Allesandra Beloni, Maasai Reggae Artist